On-Line Bill Pay
Quick and easily pay your bill through our On-Line Bill Pay.
Automatic Bill Pay
Automatic Bill Pay is the stress-free way to pay your bill on time every month. Set it up once then every month your bill amount will automatically be paid via credit card or from your bank account.
Benefits of the program include:
Set it up once, and your bill amount will be automatically withdrawn
Receive your bill as a reminder before each payment is withdrawn
Monitor your payments and view your statements on-line
Save time, postage costs and check writing
It's free!
Other Ways To Pay
Your Bill
Gilton's On-line Bill Pay isn't the only way to take care of your invoice. We also have the following options available, so you can do what's most convenient for you.
Pay Through Your Bank
You control the amount and timing of your payment when you use your financial institution's bill payment service to make a payment. Select Gilton Solid Waste as the biller and include your full account number in your setup.
Pay By Phone
Prefer to pay by phone? We're here to help. Contact us now at 209-527-3781. Please have your bill handy.
Pay By Mail
For quick and accurate posting of your payment to your account, please mail your payment along with the top portion of your invoice to the address on your invoice. Write your account number on your check, and allow 5 –7 days for a mailed payment to post to your account.
Gilton Solid Waste Management, Inc.
755 S. Yosemite Ave.
Oakdale, CA95361

Understanding Your Bill
Need to find your account number or pin? Take a look at our sample imageto see where these items are located on your bill.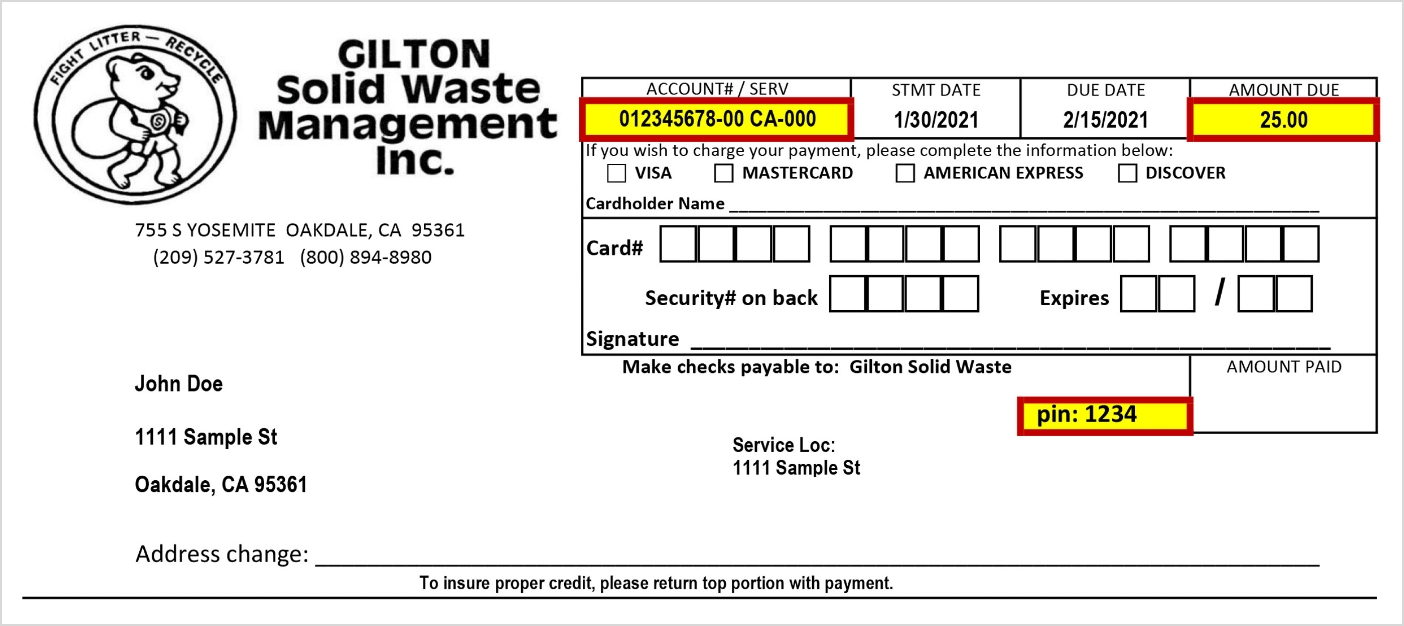 Understanding Your Account Number Format
See Sample Account Number
Paperless Billing
Enroll in Paperless Billing, and your bill will be emailed to you. You will no longer receive an invoice in the mail once you enroll in paperless billing. Click here to sign up for Paperless Billing.
On-Line Invoice Viewing & Payment History
Click here to view your invoice on-line and to see your payment history.
On-Line Bill Pay
Quick and easily pay your bill through our On-Line Bill Pay.